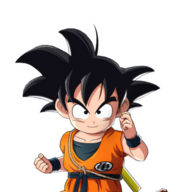 Kid Goku is back baby and powerpole WOHOO!
Super Saiyan 4
So weirdly enough a BT 4 would be possible if its not called Budokai Tenkaichi 4 so instead lets use the Original Japanese Name Dargonball Z Sparking + the english title tenkaichi making DBZ Sparking Tenkaichi!
It features new Models For All Characters but with the Old Animations!
This is The Roster:
Goku (Kid) > Great Ape
Goku (End) > SSJ > SSJ2 > SSJ3
Gohan (Kid)
Gohan (Teen) > SSJ > SSJ2
Gohan (Future) > SSJ
Demon King Piccolo
Piccolo (Early)
Piccolo (End)
Vegeta (Scouter) > Great Ape
Vegeta (Early) > SSJ > Super Vegeta
Vegeta (End) > SSJ > SSJ2
Vegeta (End) Majin
Kuririn
Yamcha
Chaozu
Trunks (Sword) > SSJ > Rage SSJ
Trunks (Fighter) > SSJ > Hyper SSJ
Trunks (Kid) > SSJ
Goten > SSJ
Videl > Great Saiyawoman
Mr. Satan > Super Satan
Uub > Majuub
Pan (GT) > SSJ
Muten Roshi
Yajirobe
Nail
Kaioshin > Kibitoshin
Radditz
Nappa
Saibaiman
Ginyu
Recoome
Burter
Jeese
Guldo
Zarbon > Transformed
Dodoriya
Cui
King Cold
King Vegeta
Cell (Imperfect) > (Semi Perfect) > (Perfect Form) > (Perfect)
Cell Jr.
Dr. Gero
Android 19
Android 18
Android 17
Android 16
Majin Buu
Majin Buu (Pure Evil)
Super Buu > Gotenks Absorb > Gohan Absorb
Kid Buu
Babidi
Spopowitch
Dabura
Bardock > Great Ape
Fasha > Great Ape
Garlic Jr. > Super
Dr Wheelo
Turles > Great Ape
Slug > Giant
Cooler (Fourth Form) > Cooler Final Form
Meta Cooler
Android 13 > Android 13 (Fusion)
Broly > SSJ > LSSJ
Bojack > Full Power
Janemba > Super Janemba
Pikkon
Tapion
Hirudegarn
Super 17
Four Star Shenron
One Star Dragon > All Star Dragon
Tambourin
Pilaf Machine > Pilaf Machine (Fused)
Devilman
General Blue
Chi Chi (Kid)
Grandpa Gohan
Nam
Eighter
Arale
Goku (Early) Recieves Now a Movesetz and Costumes based on Pre Kaioken Goku MEaning his Attacks become: Kamehame Ha, Meteor Combination and Super Kamehameha!
Goku (Mid) > SSJ Base Mid Goku Is Now the Kaioken Goku meaning his Attacks are: 20x Kaioken Kamehame HA, Kaioken Attack and the Small Sprit Bomb if you charge it turns back into the big one!
Goku (GT) > SSJ > SSJ3 > SSJ4 He Now Has His Tailless Version as a Costume aswell as A New Ultimate In His SSJ Form that being The Running Kamehameha
Gohan (Adult) > SSJ > SSJ2 > Mystic / > Great Saiyaman The Mystic Form is now a Transformation he also Has New Attacks based On DBS And Super Hero!
Vegeta (GT) > SSJ > SSJ4 He Gets His Base and SSJ Forms aswell as his secind Costume is now Moustache Vegeta
Tenshin-Han He Gets two new Costumes one Based On DBs The Other are his Blue Pants From DB Also his Second Special is now The Volley Ball Fist
Trunks (Sword) > SSJ > Rage SSJ He Gets a New Form and Costume Based on DBS Trunks
Mr. Satan > Super Satan He Gets A What If Super Satan Form based on his Wild Stories In this Form he gets SUPER Strong sorta as Strong as Gogeta SSJ4
Pan (GT) > SSJ Pan Gets a What If SSJ Form
Muten Roshi OG Roshi has now no longer his Buff Form as its Moved to Super Roshi!
Freeza (First form) > (Second Form) > (Third Form) > (Final Form) > 100% Freeza has now Mecha Freeza as A Costume
Cranberry/ Generic Freeza Soldier This Charcter is now an Amalgam of Cranberry and the Freeza Soldiers From Resurection F
Baby > Baby Vegeta > Super Baby 2 > Great Ape Baby His First Form is now Regular Baby Who Posseses And Generally Acts like a Parasite
Tao Pai Pai his Cyborg and regular self are fused! meaning his Attacks are now: OG Dodonpa, Crane Combination and Super Dodonpa his costumes are both Og And Cyborg Tao!
Goku (Super) > SSJ > SSJG > SSJB
Goku (Super) Ultra Instinkt
Gohan (Adult) Beast
Piccolo (Super) > Potential Unleashed > Orange
Vegeta (Super) > SSJ > SSJG > SSJB
Kuririn (Kid)
Yamcha (Bandit)
Trunks (GT) >SSJ
Goten (GT) > SSJ
Uub (Kid)
Pan
Muten Roshi (Super) > Buff
Freeza (Super) > Gold
Broly (Super) > Rage > SSJ > FPSSJ
YA Chi Chi
Beerus
Whis
Jaco
Cabba > SSJ
Caufilia > SSJ
Kale > Beserk
Hit
Auta Magetta
Frost (Final Form)
Goku Black > SSJ > SSR
Zamasu
Brianne > Ribrianne
Toppo > GOD
Jiren
Gamma 1
Gamma 2
Cell Max
Ledgic
General Rildo > Hyper Metal Rildo > Rildo Final Form
Three Star Dragon
Commander Silver
Murasaki
Monster Carrot
Fusions:
Goku (End) + Vegeta (End) = Vegetto > SSJ
Goku GT + Vegeta GT = Gogeta SSJ4
Goku (Super) + Vegeta (Super) = Gogeta > SSJ >SSJB/ Vegetto SSJB
Goten (Kid) + Trunks (Kid) = Gotenks > SSJ > SSJ3
Zamasu + Goku Black = Zamsu Fused > Corrupted
Kale+ Caufilia = Kefla > SSJ
Tenshinhan + Yamcha = Yamhan
Now Its more Ordered!
Last edited: